---

Advance Directive Documents
We recommend taking advantage of a facilitated conversation to start discussing your goals and preferences for future healthcare. A facilitator will guide you through the process to help you identify a patient advocate and what is important to you to live a good life. The Advance Directive has been approved as a "common document" by many Michigan hospitals. Download the documents below to get started.
Interested in sharing with the people you serve?
Please feel free to print and download our general information sheet:
We understand that documenting your values and preferences for treatment is important, especially during the COVID-19 outbreak. In conjunction with the documents linked above, consider referencing these resources:
Download Your Advance Directive Forms Today!
It's free and easy to file. Get started today.
File Today
---
Training Programs
Check out our upcoming ACP training dates:
---
First Steps® ACP Facilitator Training
Community volunteers and healthcare professionals are invited to participate in this evidence-based training to become a certified Advance Care Planning Facilitator. Our training is a two-part course consisting of four to six hours of online instruction and a full day of training with didactic and role play experience. Participants will learn effective communication and interview skills to empower individuals through the process of discussing, deciding, and documenting their healthcare preferences.
Stay tuned for more ACP Facilitator training dates, join our waitlist for our next First Steps® ACP Facilitator Training class by emailing acp@mihin.org
Next Steps

™

(NS) Facilitator Course
The Next Steps™ (NS) Facilitator course is meant to provide information and skill development to assist adults who need to make healthcare decisions specific to their distinct disease(s) with consideration to possible situations that may arise from the specific disease trajectory. During the course education and role-playing assist attendees in learning communication techniques to promote person centered ACP conversations and instruction on how to customize wishes clear enough to guide decision making when that time comes.
Suggested Attendees to the NS™ Facilitator Course
Qualified, typically healthcare, professionals with knowledge of disease processes interested in delivering a more in-depth ACP Facilitation.
If interested in the NS Facilitator Course, you can register at https://choreographedhealthsolutions.com/next-steps-facilitator-course/
Advanced Steps® ACP Facilitator Training
Advanced Steps Advance Care Planning conversations are initiated as a component of quality end-of-life care for frail elders and those whose death in the next 12 months would not be unexpected. The Advance Steps conversation is focused on goals of care to make timely, proactive, and specific end-of-life decisions.
If interested in the AS Facilitator Course, you may register at https://choreographedhealthsolutions.com/advanced-steps-facilitator-course/
---
Upcoming Webinars:

Stay tuned & check back frequently for new webinar training events
---

Community Events
Check out what events are happening in your community:
From general advance care planning basics, to being a caregiver, to green burial – we collaborate with community partners to cover everything you need to know to be empowered to advocate for your own healthcare – wherever you are on your life's journey.
Book Discussions

Date: Tuesday, March 9th
Time: 7:00pm
Led by: Dave Kampfschulte
To register, please contact acp@mihin.org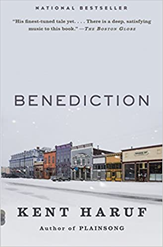 by   Kent Haruf 
When Dad Lewis is diagnosed with terminal cancer, he and his wife must work together, along with their daughter, to make his final days as comfortable as possible, despite the bitter absence of their estranged son. Next door, a young girl moves in with her grandmother and contends with the memories that Dad's condition stirs up of her own mother's death. A newly arrived preacher attempts to mend his strained relationships with his wife and son, and soon faces the disdain of his congregation when he offers more than they are used to getting on Sunday mornings. And throughout, an elderly widow and her middle-aged daughter do all they can to ease the pain of their friends and neighbors. (description: https://www.goodreads.com/book/show/15762186-benediction#)   
---
Date: Wednesday, April 21st 
Time: 7:00pm
Led by: Jill Peirce
To register, please contact acp@mihin.org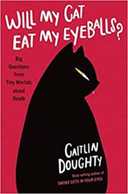 In Will My Cat Eat My Eyeballs?, Doughty blends her mortician's knowledge of the body and the intriguing history behind common misconceptions about corpses to offer factual, hilarious, and candid answers to thirty-five distinctive questions posed by her youngest fans. In her inimitable voice, Doughty details lore and science of what happens to, and inside, our bodies after we die.  Beautifully illustrated by Dianné Ruz, Will My Cat Eat My Eyeballs? shows us that death is science and art, and only by asking questions can we begin to embrace it.  (Description from: https://www.goodreads.com/book/show/52672113-will-my-cat-eat-my-eyeballs?from_search=true&from_srp=true&qid=xnR4wu2lBM&rank=1) 
---
Date: Thursday, June 3rd 
Time: 7:00pm
Led by: Carol Robinson
To register, please contact acp@mihin.org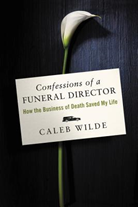 "I tremble to say there's good in death, because I've looked in the eyes of the grieving mother and I've seen the heartbreak of the stricken widow, but I've also seen something more in death, something good. Death's hands aren't all bony and cold." Caleb Wilde, Confessions of a Funeral Director. 
 Join us as we discuss this sixth-generation funeral director's exploration of how he could make a difference in the world by caring for the deceased and their loved ones. Wilde tells his story with equal parts humor and poignancy, giving us an intimate look into the business of living and dying.  
 Wilde, C. (2017). Confessions of a funeral director: How the business of death saved my life. HarperCollins Publishers, New York, NY. 
Making Choices Michigan (MCM) has existed since 2010 as a community-driven collaborative committed to empowering Michigan residents by documenting their preferences, values, and beliefs for serious illness care. The preferences include naming your Patient Advocate(s) and communicating your treatment preferences in an advance directive, which is shared with your Patient Advocate(s), people who care about you, and the broader healthcare system.
In January of 2021, MCM became a strategic business unit (SBU) of MiHIN. You will notice a few changes to our organization, based on the restructuring… Learn more>
Virtual Office Hours
Traditionally our Advance Care Planning (ACP) education sessions begin to pick up this time of year. Although our physical office will be closed through the remainder of 2020, we are still available for education and conversations! We can provide a customized, online ACP presentation for your faith group, community club, support group, employee assistance program, your family…the possibilities are endless!
Contact us at 844-454-2443 or at
acp@mihin.org 
and let us help you have the conversation about #WhatMattersMost
Advance Care Planning (ACP) during the COVID-19 Pandemic
You have heard it over and over by now; "unprecedented, uncertain times, ventilator shortage". The list goes on. Coping methods differ between individuals. Some don't want to hear anything, others are scouring the internet and listening to the news for any information they can find.
Our mission has always been to educate the public about healthcare choices, including end of life choices, and to work with our healthcare communities so that those choices are known and respected at the time of need. Being educated and sharing your treatment preferences with your patient advocate is a way for you to take control of your healthcare. It is also a gift, both to your patient advocate, and to our healthcare providers! Everyone needs to know what is most important to you during this uncertain time…
---
Resources for Participants
The journey of life has many twists and turns. No matter where you find yourself along the path, these resources are valuable tools.
---
Patient Advocate Guidance
Being an advocate is an honor and an important job. Learn more about being an effective patient advocate, should you be asked to speak on someone else's behalf.
A Patient Advocate (also known as a Durable Power of Attorney for Health Care) is often mistaken for a similar term – Durable Power of Attorney. A Durable Power of Attorney is responsible for your belongings and finances if you should not be able to speak for yourself, while a Durable Power of Attorney for Healthcare (DPOAH), or patient advocate, makes decisions about your medical care on your behalf.
To be an effective patient advocate it is essential to take the time to have meaningful conversations with the person for whom you are an advocate what their preferences are for healthcare. If you are in a situation where you have to speak on their behalf you will be asked to share what the person would want, not what you think they would want. You must also be able to advocate for the person's healthcare decisions even though you may not personally agree with those decisions.
Finally, to become a patient advocate you must accept the role in writing.
Patient Advocate Resources