Why Telehealth?
When you can't (or shouldn't) have in-person medical care, what are the options?
What should a telehealth service offer?
How can I access more information?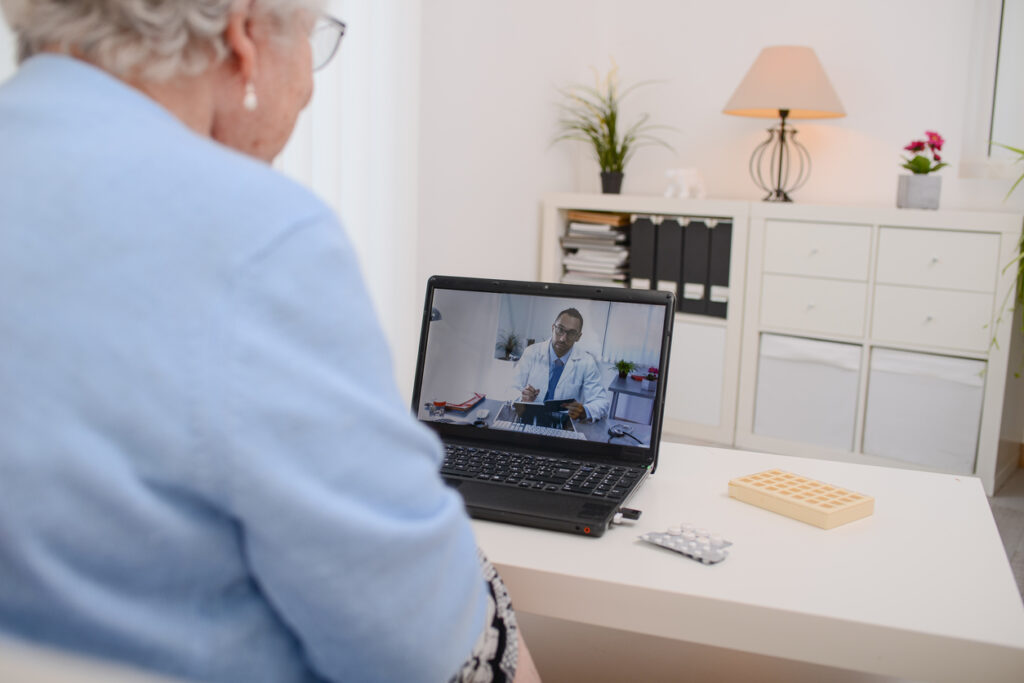 Telehealth (also known as Telemedicine) is a means of delivering care virtually.  It encompasses a variety of services including on-demand (like urgent care) visits, scheduled conversations and updates, and linking to your home monitoring devices. "Telehealth" started with the invention of the telephone, and now a includes many ways to  video visits, telephone, chat and emailed consultation for tests/images known as "store and forward".
Telehealth is a rapidly expanding modality of healthcare delivery that has promise to improve patient access and engagement and expand the reach and expertise of physicians and healthcare facilities outside of the physical practice walls. However, there are now numerous telehealth vendors available and in use by providers, each of which offer varying levels of services and functionality, care team integration, and summary of care information.
We believe Telehealth is an essential part of the service delivery system and that the vendors and technology supporting it should work to meet the public's and health care providers' needs.
We offer a service that works for the patient, the care team and the provider.  It is Care Convene.
It supports:
•  Patient engagement and condition management
•  Access to and use by the care team
•  On-demand and scheduled care by text, phone and/or video
•  HIE Enabled and interoperable
•  HIPAA compliant and secure.
[mkdf_button size="" type="white" hover_type="solid" target="_self" icon_pack="" font_weight="800″ hover_background_color="#aaaaaa" font_size="24″ text="Learn More About Care Convene" link="https://mihin.org/careconvene/" color="#223b87″ hover_color="#223b87″]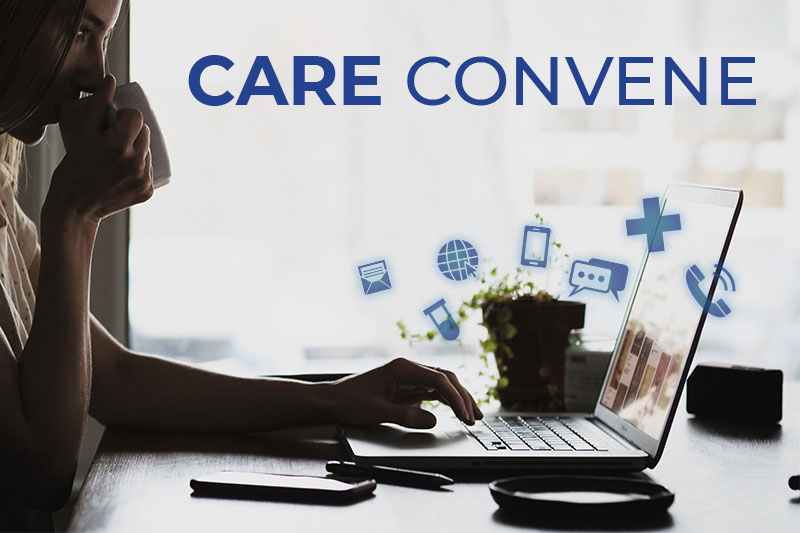 [mkdf_accordion style="boxed_accordion"][mkdf_accordion_tab icon_pack="" title="Patient Registration" el_id="patient registration"]
Q: How do patients connect to their provider/practice with the downloaded app?
A: A few easy steps:
When the practice registers for Care Convene, they receive a "Practice Code"
The practice shares that Practice Code with their patients
Patients download the Care Convene app from ITunes or Google Play app stores
The patients open the app, enter the Practice Code, and create an account for themselves.
That's it! Now they can engage with the practice in various ways!
MiHIN will also know the Care Convene Practice Code and will be able to help the patient go through these steps. In addition, there are also videos and guides available on the MiHIN website.
Q: What about patients who can't/won't download an app?
A: Care Convene has a simple "Text-a-Visit™" feature that allows the practice/provider to send a link to the patient's phone. The patient simply clicks the link and enters into a text chat with the provider. The text chat can be escalated into a video chat if the provider thinks it necessary. Text-a-Visit is a secure option that doesn't require the patient to download the app or register.
Q:  What kind of support is available? 
A:  Practices can complete their paperwork and sign up their providers and users on our MiHIN/Velatura's website. We also have self-serve resources on our website, including videos for practices, patients and specific topics, like the quick visit. Finally, our help desk staff are available to assist practices and patients with specific questions! 
Email telehealth@mihin.org (in Michigan) or telehealth@velatura.org (all other parties) or
Call 1-866-577-3450
Q: Is there a fee for support?
A: No. Support is included at no additional charge.
Q: How long does it take to get started?
A:   Participating MiHIN organizations only have to sign the subscription agreement and a service agreement and register their users.  Using the on-line registration system allows you to enter the needed user (Provider, Qualified Health Professional and/or staff) information in minutes.
[/mkdf_accordion_tab][mkdf_accordion_tab icon_pack="" title="Practice Workflow Features" el_id="practice workflow"]
Q: How Does A Provider/Qualified Health Professional Access Care Convene?
A: There are two options:
Smart phone/Tablet using Apple or Android iOS:
The Provider/Qualified Health Professional can access Care Convene by downloading the provider app on Apple or Android. Our mobile app for Providers is available on Apple and Android devices. 
Web Browser via desktop or laptop:
Since user experience is important to you and your patients, we recommend Google Chrome for accessing Care Convene via web browser. The browser version provides the best experience with more "space to work", whereas the mobile app adds flexibility and mobility.
Q: Does the Care Convene Platform Offer More Than Just Video Visits?
A:  Care Convene is designed to support the practice/care team, your patients, and your options!
While Care Convene is primarily a secure and easy to use chat / video tool, the platform also offers the capability for providers to send patients Care Assessments and receive ADT (Admit, Discharge & Transfer) notices.
Condition-specific Care Assessments are used to help clinicians engage patients to better manage chronic symptoms.  These assessments are used to do two things: teach patients what symptoms they need to monitor and to give the patient a simple and seamless path to report symptoms.  In addition to Chronic Symptom Management, Assessments can also be used for post-discharge patient monitoring.
Q: Can Non-Clinical Staff (Schedulers, Administration, etc.) use Care Convene?
A: Yes! Care Convene is a practice-based solution that works best if the entire care team is using the platform, which includes non-clinical staff such as schedulers and billers. Support staff are users included under their clinicians' Care Convene license.
Q: Do I Have To Document In Care Convene?
A: No. We recommend documentation in your EMR to reduce re-work and duplication. However, Care Convene does offer a SOAP notes section and preserves chat messages between Qualified Health Professional and patient.  We do ask that the Patient Instruction section is completed for the patient benefit. If documentation is completed in Care Convene, the discharge summary can be accessed/printed/sent (via Direct Trust/Summary of Care).
Q: How Can Telehealth Integrate Into our Practice Workflow?
A: Each practice is unique in it's resources and workflows. We recommend telehealth be used for low acuity complaints, follow-ups, routine chronic disease management and after-hours support. Patients value both convenience and their existing clinical relationships.  The best case scenario is when the primary care team uses Telehealth as just another way to serve their patients, no matter where their patients may be! This supports the Patient Centered Medical Home and PCMH-N model.
Q: How are Providers/Qualified Health Professionals reimbursed for their services?
A: Practices have several options. Since many practices will document the visit in their EMR, they would code and bill according to their normal process, most likely billing the patient after the insurance company has paid the claim. In this case, practices will not charge the patient in Care Convene, setting visit fee to $0.
 If the practice wishes, they can collect a flat fee from the patient at the time of visit using Care Convene's integrated merchant service partner, Card Connect. Providers will also collect remaining insurance balance. All flat fees collected are deposited directly into the practice's bank account. There are no Credit Card fees.
Q: What is the difference between Care Convene Plus+ and Care Convene Integrated?
Care Convene Plus+ provides the full utility and functions of the Telehealth service:
On-demand and Scheduled Visits
Versatility of TH modality: Chat, Phone, Video
Patient Engagement and Education
Condition-specific Care Assessments promoting self-management and provider alerting
Practice Branding and Customization, including encounter pricing
Summary of Care delivery to EMR via Direct
Care Convene Integrated adds the key feature of being HIE Enabled
All of the above, plus:
Admission, Discharge & Transfer Notifications
Active Care Relationship Query
Provider Directory Query (coming soon)
Discharge CCD Viewer (coming soon)
Q: What is the fee structure?
A: We have models to support your type of organization and size.  For example, one model is based on practice size and carries a subscription-based monthly fee. We have another that carries a patient activation fee and per use charge.
The CareConvene Plus+ service is priced slightly lower than the CareConvene Integrated.
Q: Why do I need to buy a Telehealth Service that is HIE Enabled?
A: At minimum, you should consider a platform that is HIPAA compliant, secure, and interoperable.  In addition, it is important to implement a service that supports your patients'  condition self-management and health literacy. Finally, Telemedicine has been offered outside the healthcare ecosystem, using an HIE enabled service will support PCMH, care coordination and transitions of care.
Q: How does a practice utilize HIE features for their practice workflow?
A: Practices can use Care Convene to become an additional receiver of real-time ADT notifications. The benefits include getting ADT messages and discharge CCD documents to the browser or provider app. Receiving ADT in the app is beneficial because clinicians can react to these messages in real-time and have access to the information without being tethered to a computer. Care Convene also allows clinicians to create filters for the ADT types they want/need  ADT. This helps to eliminate unnecessary messages.  This can potentially eliminate other solutions. Care Convene is also offers tools to query the Active Care Relationship Service (ACRS) to identify patient-provider relationships (ie primary care provider, specialist, Behavioral Health provider, etc). This is important information for efficient care coordination. 
To become an additional receiver, the Care Convene practice uploads their ACRS file in Care Convene. Important: client must already be participating with the MIHIN ADT/ACRS Use Case.  
Q: What is the process for receiving ADT's?
A: Practices must first be onboarded to ACRS/ADT through MIHIN. Then they will need to upload ACRS files to Care Convene in the ACRS tab in Practice Settings on a monthly basis
[/mkdf_accordion_tab][mkdf_accordion_tab icon_pack="" title="Interoperability" el_id="interoperability"]
Q: Is Care Convene Interoperable with the Practice's EMR?
A: Yes. We send the visit summary to the Electronic Medical Record (EMR) via CCD/Direct Message. HL7 connectivity is currently in development.
 Q: What about EMR integration?
A: Care Convene is working with Epic on basic provider single sign on and Epic appointment integration. Care Convene is also currently pursuing integration with Athenahealth and Cerner.
[/mkdf_accordion_tab][mkdf_accordion_tab icon_pack="" title="Security" el_id="security"]
Q: Is Care Convene Secure?
A: Care Convene adheres to all federal (HIPAA & HITECH) and state regulations regarding privacy and security. All technical infrastructure, data and employees are located in the USA.  Our cloud host provider has been audited and attained industry certifications such as SOC, PCI and has had vulnerability tests. Data encrypted to the highest levels (AES-256) while at rest and in transit.
Q: Does Care Convene store data on devices?
A:No. No data is stored on devices.
[/mkdf_accordion_tab][/mkdf_accordion]