Published: 4/2/21 – 
---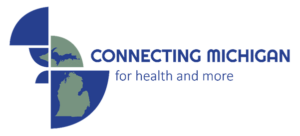 March 23
rd
 EVENT RECAP 
Healthcare 3.0 – Exploring the New Paradigm
The business and practice of healthcare delivery has shifted dramatically at notable inflection points in recent years, and technological innovation has played a central role in these changes. The onset of Covid-19 prompted the need for significant changes in healthcare and had a significant impact on important ongoing issues including social determinants of health (SDoH), public, and population health. Add to that the new regulatory requirements on payers and providers prompted by the ONC/CMS Final Rules, the 21st Century Cures Act and the Trusted Exchange Framework and Common Agreement (TEFCA). MiHIN's 2021 virtual conference series, Connecting Michigan for Health and More, is focused on exploring this new paradigm of Healthcare 3.0 and its implications for the ongoing evolution of healthcare delivery, experience, costs, and outcomes.
Our first event kicked off on March 23rd and covered a full range of topics including bioethics, eConsent, social determinants, telehealth… and MORE:
MiHIN Executive Director, Dr. Tim Pletcher welcomed attendees to the first fully virtual event series in the organization's history and introduces Lindsey Weeks, who leads the Michigan HIE Pay-for-Performance program for Blue Cross Blue Shield of Michigan –Connecting Michigan for Health and More's Diamond Sponsor.
OPENING KEYNOTE – WHY IT'S UP TO YOU TO SAVE THE TRUTH
Dr. Geeta Nayyar, Executive Medical Director for Salesforce set the stage for our inaugural 2021 event with a reminder of the both the importance and fragility of scientific fact and objective truth – especially during the current health crisis.
SOCIAL DETERMINANTS OF HEALTH – THE ROLE OF HEALTH IT IN INTEGRATED CARE DELIVERY
Kim Bachelder, MiHIN State Account Director, led this blue-ribbon panel including Kirk Smith, President & CEO of the Greater Flint Health Coalition, Christopher Jackson, State Assistant Administrator for Policy and Planning at MDHHS, Dr. Michael Englesbe, Distinguished Professor of Surgery, University of Michigan, and Evelyn Gallego, CEO and Founder of EMI Advisors LLC. The group acknowledged that 50-70% of personal health outcomes are directly influenced by individual behavior and/or environmental factors. Their discussion unpacked these complex issues and discussed how health information technology can be applied to better support community needs.
Coordination of care across the healthcare continuum can be challenging.  By automating care transitions through a closed-loop referrals network, providers can enhance efficiency, improve patient outcomes, and reduce costs; not to mention eliminate the burden of phone and fax "tag" on already busy resources. Bryan Bulock and Adam Giroux of MiHIN outlined the functions and benefits of the ReferralsPlus solution illustrated by Shaina Gowell's first-hand experience using the tool in her role as Referral Supervisor at Hackley Community Care Center.
THE INTERSECTION OF BIOETHICS AND HEALTH INFORMATION TECHNOLOGY
Ethics is a philosophical discipline pertaining to notions of good and bad, right and wrong—our moral life in community. Bioethics is the application of ethics to the field of medicine and healthcare. Shreya Patel, Chief Policy and Privacy Officer at MiHIN, introduced these issues as they relate to health information technology interests including what information is collected and how, how and under what conditions that information is shared, as well as the presence of unconscious bias in health IT and how to mitigate it. Joining in this insightful discussion were Alice Leiter, VP and Senior Counsel at the eHealth Initiative and Hema Karunakaram, Health Equity Program Manager, IBM Watson Health.
SPOTLIGHT: INTEROPERABILITY LAND
Interoperability Land™ (IOL) is a simulated healthcare environment designed to power the future of interoperability through the integration, acceptance, and testing of technologies and open standards within a collaborative, digital platform. This Spotlight session highlights the benefits of the IOL in an academic application as demonstrated through a unique intern partnership between the Interoperability Institute, the University of Michigan Medical School, and the Michigan chapter of the Health Information Management Systems Society (HIMSS).
ELECTRONIC CONSENT SOLUTIONS FOR HEALTH INFORMATION SHARING
Collecting and sharing personal health information, having voluntary, informed and explicit advance consent from a patient is a critical and increasingly complex topic. This is particularly true when managing paper approval forms for complex cases across multiple provider offices. eConsent is an electronic means of improving the informed consent process. It has the potential to be transformative, but also brings concerns for maintaining security and patient control over their most sensitive information. Shreya Patel convened an expert panel to discuss these myriad issues including Dr. Robert Berube of 5thPort, Jon Villasurda of MDHHS, and Joe Saul of .
SPOTLIGHT: CONSUMER HEALTH 3.0
COVID-19 disrupted many aspects of daily life but also accelerated emerging trends and innovations in healthcare. Explosive growth in the deployment and use of virtual medical visits with telehealth is perhaps the clearest and most dramatic example. In this Spotlight, Chris Bailey, Director of National Engagement and Consumer Health Strategy at MiHIN, gets a first-hand perspective on the value of telehealth during the pandemic at the practice level, and what the future for this technology might look like in a post-Covid world. Chris' guest for the discussion was Dr. Jeff VanWingen, a family physician and Medical Director for Heartland Hospice of West Michigan.
HIE 3.0 – THE FUTURE OF INTEROPERABILITY
The closing keynote presentation for the day was led by Melissa Kotrys, Chief Executive Officer of Health Current, Arizona's health information exchange (HIE). As a nationally recognized leader in health information technology, Melissa's comprehensive presentation offered a deep dive into some of the pressing questions, challenges, and opportunities facing healthcare delivery and technology today and into the future.
Throughout the remainder of 2021, MiHIN will continue to explore this new paradigm of Healthcare 3.0 and its implications for the ongoing evolution of healthcare delivery, experience, costs, and outcomes. We invite you to join us on this journey of discovery! Find evolving details on all of the upcoming events in the Connecting Michigan for Health and More conference series at our website, www.mihin.org/events.