Shared Digital Infrastructure for a Healthy Michigan
Michigan Health Information Network Shared Services (MiHIN) is Michigan's non-profit statewide entity that legally, technically, and securely provides critical and comprehensive patient information to our network of care providers consisting of doctors, clinics, federally qualified health centers, hospitals, pharmacies, health insurance providers, and public health. 
Michigan Care Seekers
Ensuring that personal health information is being shared comprehensively, legally, and securely to protect privacy and solve for health.  
Governmental Agencies
Improving patient outcomes, preventing unnecessary admissions and procedures, and providing information fluidity resulting in better medication reconciliation processes, enhanced therapeutic medical interventions and improve quality of care metrics.
Care Providers, Hospitals, and Health Systems
Improving patient outcomes, preventing unnecessary admissions and procedures, and providing information fluidity resulting in better medication reconciliation processes, enhanced therapeutic medical interventions and improve quality of care metrics.
Health Plans
Generating an holistic picture of members' clinical information as market demands quality ratings, accountable care and population health. 
As a verb, health information exchange (HIE) is the process of sharing health information electronically.
As a noun, a health information exchange is an entity that represents a network of organizations (referred to as a health information network or HIN), that provides technology and services to connect disparate sites of care to legally, securely and technically share health information.
MiHIN represents a robust network of entities across the continuum of care that are connected by our shared digital infrastructure and a set of standards, services, and policies.
A neutral steward of data and agnostic intermediary, MiHIN exists to benefit Michigan's population. 
We serve our network of participants by providing an interoperable digital fabric designed to provide statewide connectivity between all the entities responsible for the health and wellness of their patients, clients and members.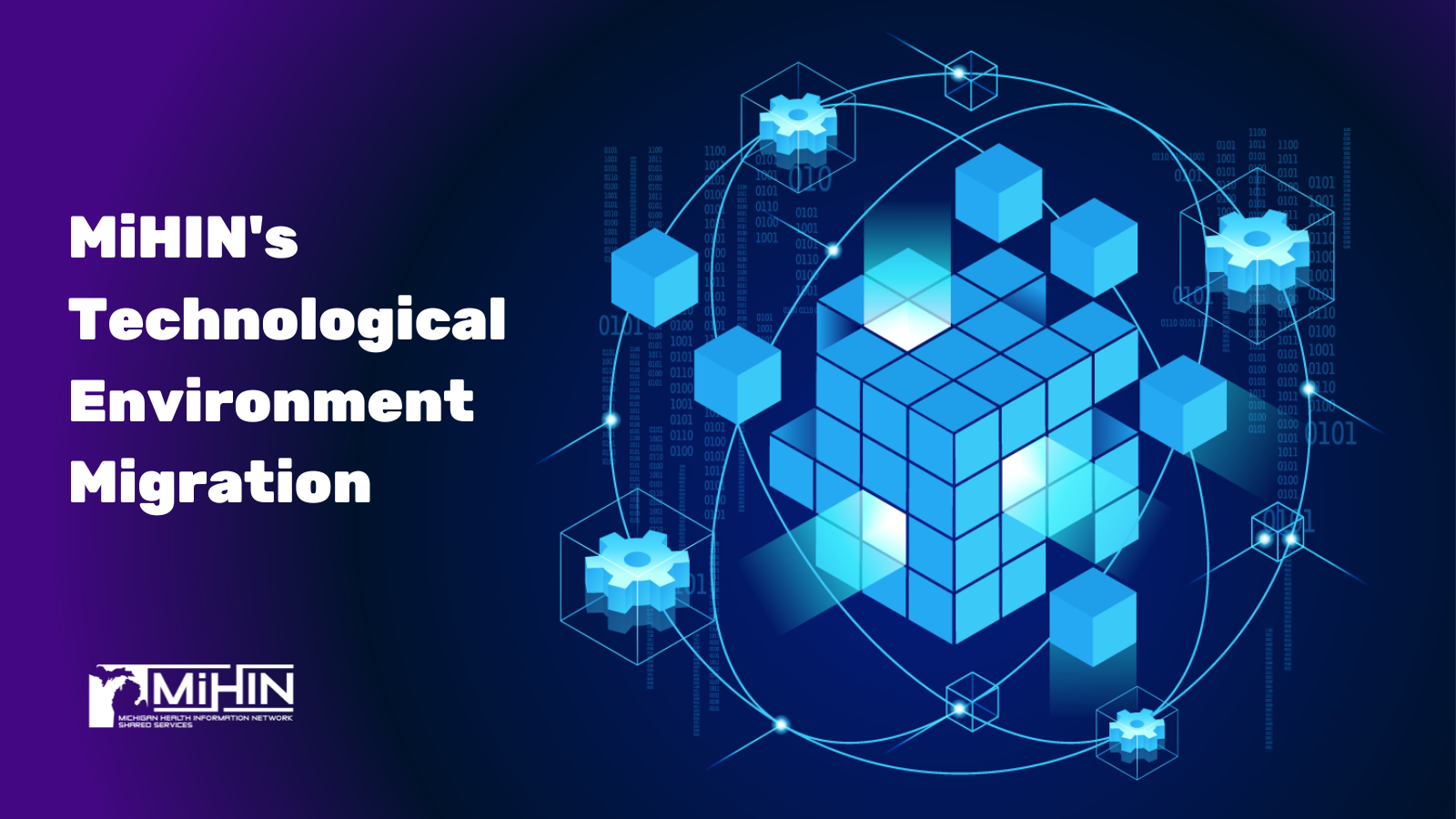 Technological Environment Migration:
Read the latest on MiHIN's 18-24 month technological environment migration.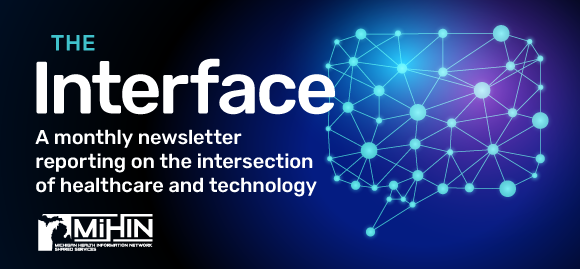 The Interface
Read our latest monthly newsletter for to stay up-to-date on the intersection of healthcare and technology.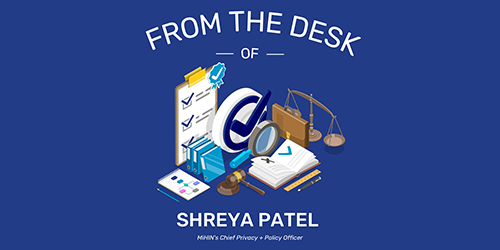 From the Desk of Shreya Patel – TEFCA & Information Blocking Rule Updates from MiHIN
Read the latest updates on a new Proposed Rule from Shreya Patel, MiHIN's Chief Privacy & Policy Officer… 
The state promoted the early growth of HIEs by encouraging local organizations to form throughout the state.
MiHIN evolved as a solution to data silos that emerged among hospital and health systems and the variety of electronic health record software they implemented. Michigan subsequently formalized MIHIN as the state designated HIE and today engages with MiHIN as a consolidated, statewide, public-private partnership.
For Michigan, a careful balance of state engagement and private enterprise, starting with many small HIEs and evolving to one, has produced a capable and innovative infrastructure.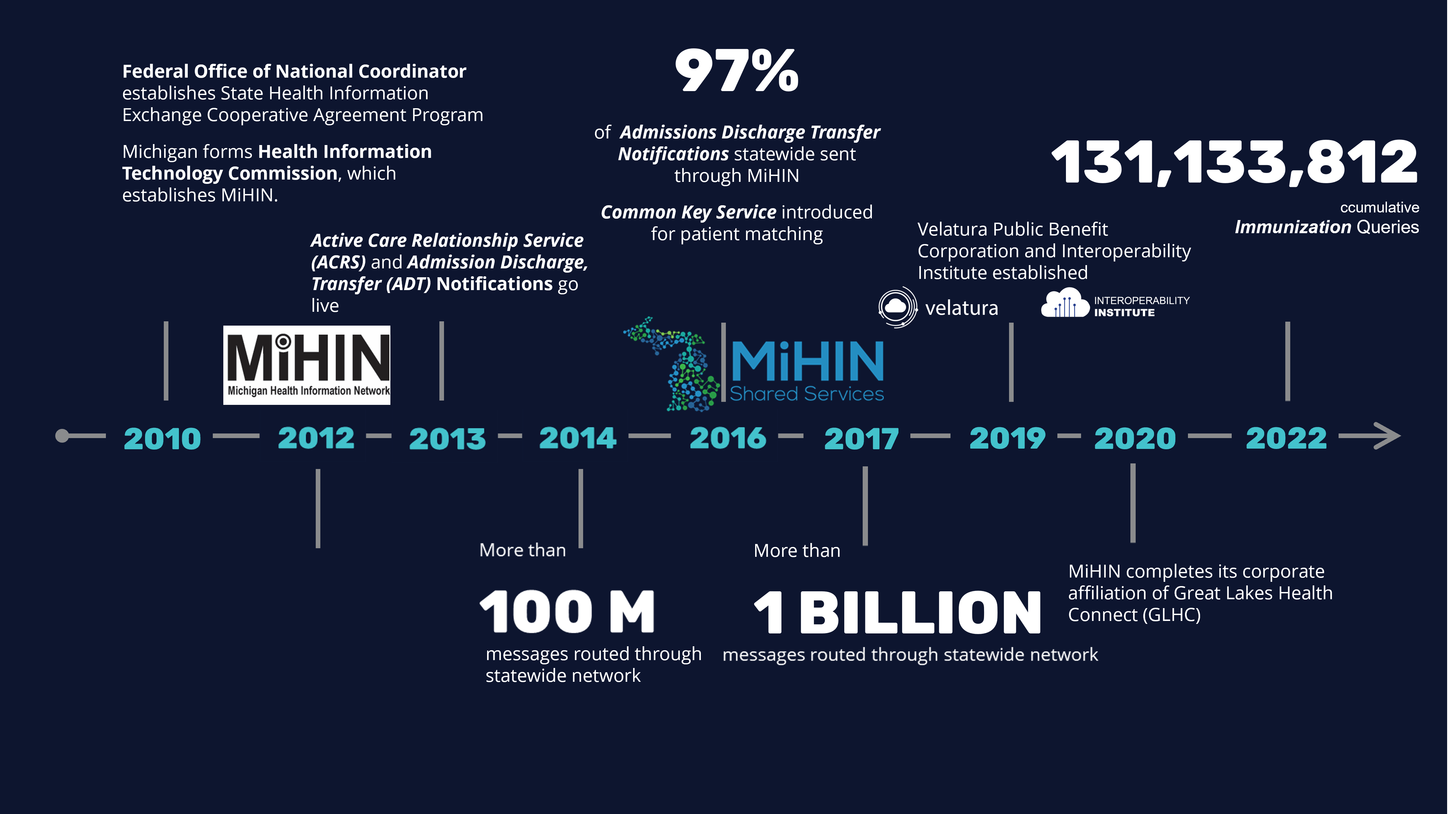 The Use Case Factory (UCF™)
Use cases for sharing specific types of health information require unique technical and legal guidelines to ensure the health information is protected and the right people have access to the right information.
The UCF™ manages both levels of issues and considers other critical factors in the ideation cycle of exchange situations including: sponsorship, funding, environmental analysis, and operational readiness.
Together, each phase is uniquely positioned to develop and refine catalytic data sharing scenarios needed to optimize health care delivery and the associated business and payment processes.
1. CORE TECHNICAL INFRASTRUCTURE
The UCF™ is dependent on a set of technical functions. Those functions include a routing mechanism found in interface and integration engines and identity services that rely on a provider and person master registry.
2. LEGAL FRAMEWORK
To enable a substantial trust fabric to form between participating organizations on the network, the UCF™ uses a modular, scalable data sharing legal framework.
3. GOVERNANCE STRUCTURES
The UCF™ is built on a multidimensional set of governance structures. Together each structure provides oversight, guidance, and recommendations to Network management; and intentionally building in mechanisms for meaningful stakeholder feedback into the Network. 
4. USE CASE DEVELOPMENT
The Use Case Factory™ (UCF) is based on methods derived from manufacturing processes. Each stage has a set of activities and controls that enable actors to successfully design and operationalize use cases for information exchange. The UCF stages include Concept, Design, Implementation and Adoption by the critical mass of users.
5. IMPLEMENTATION & SUSTAINABILITY
When a use case completes the implementation phase and moves to production implementation the UCF™ will need to consider utilization, market demand, and ensure sustainability. Cost recovery mechanisms related to total cost of ownership for the UCF™ infrastructure and the ongoing maintenance of each use case are key factors in sustainability.
Benefits of Shared Infrastructure
Safer & More Optimal Care
Preventing diagnostic, medication treatment, system or communication errors
Supporting appropriate treatment, follow‐up, and prophylactic actions
Reduction of Burden & Waste
Working to overcome the failures of care delivery and coordination, overtreatment, administrative complexity, pricing failures, and  fraud and abuse
Faster Learning & Innovation
Supporting the detection, monitoring, and measurement of  data driven health transformation
Driving technology adoption and quality improvement
Activating translational science
and research