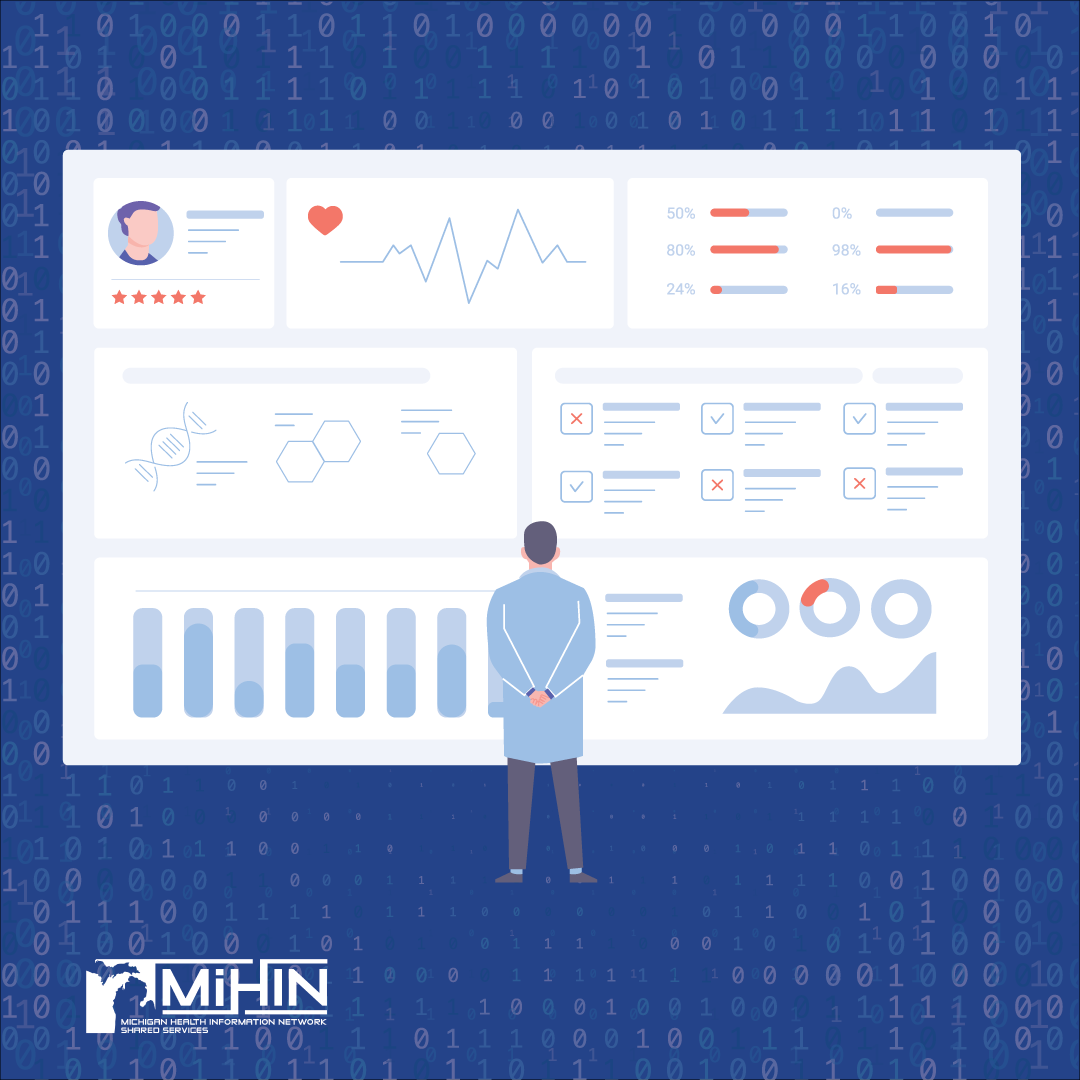 "There's so much data," says Joe Coyle, Director of the Michigan Department of Health and Human Services (MDHHS) Bureau of Infectious Disease Prevention (BIDP). "The question is, how do we tap into that data and utilize it best? How do we turn big data into information?"
Every day the Michigan Health Information Network (MiHIN), Michigan's statewide health information exchange infrastructure, receives more than four million Admission, Discharge, Transfer (ADT) messages. Over four million ADT messages per day amounts to an average of 30,191,953 per week. And, ADTs are only one of many sources of health data.
One good example of turning big data into useful and actionable information is MiCelerity, a project MDHHS and MiHIN began in 2020. As part of a critical statewide response to the opioid epidemic, public health officials needed a way to track, at an individual and population level, who was getting admitted to the hospital for drug poisoning. To meet this need, MiHIN began scanning all incoming ADT messages for drug poisoning diagnosis codes and routing only that subset of ADT messages to an MDHHS dashboard that displays the data in a user-friendly format to users who have special access. 
What's interesting, as Coyle points out, is that "ADT data doesn't exist for the purpose of informing public health, but it's clearly valuable if we can mine and curate that big data for a public health purpose. ADTs aren't going to tell us everything, but if we can understand the potential uses and limitations, the data can be used as a marker for increasing our understanding of what's going on with a particular condition."
The work MDHHS and MiHIN have done together to make ADT data useful for public health is a good example of what Coyle believes needs to happen across the public health sector to make big data useful and improve public health response: Automate what can be automated — including collection, aggregation, visualization — so that the healthcare and public health workforce can do the things that require a human touch.
"Public health is good at being empathetic and meeting people where they are at. We're having personal interactions, talking to people about what their needs are, what their health circumstance means for them and their household, and how they can navigate to treatment or additional medical care," says Coyle. "When the practitioners are focused on serving the needs of their clients the interactions are more productive and personable. When the health IT systems effectively and efficiently receive, transform, and use this affords the public health workforce to prioritize people over data collection. 
This fact became even more salient during the COVID-19 pandemic. Typically, for a novel infectious disease or any of Michigan's 100 reportable diseases (infectious diseases like Hepatitis C or Listeria), a case investigator reaches out to identified cases to gather more information about the illness, patient risk factors, and infection outcomes and document that information into a standardized case report form. Case investigators try to find answers to questions like where an individual may have been exposed. Epidemiologists across the state then try to identify patterns in the data from data aggregated across individual case reports. 
For example, take Listeria outbreaks . Listeria monocytogenes is a foodborne pathogen that can cause life-threatening infections called Listeriosis in older people, pregnant people and their fetuses, and people with compromised immune systems. It is critical to identify the source of the infection as quickly as possible so that implicated food sources can be recalled and consumers can be warned. In order to figure out the source, case investigators ask patients nine full pages of detailed questions about their recent food history! This is incredibly time consuming, but it is possible to do for something like Listeriosis that may only have a few dozen cases per year in Michigan.
During the COVID-19 pandemic, there were times where case volumes exceeded ten thousand cases per day in Michigan. "Case investigators were trying to conduct investigations to learn more about the novel virus, but it was difficult," says Coyle. MDHHS did stand up two public facing dashboards to make data actionable and accessible to Michiganders, one that tracks cases and one that tracks vaccines. But there were still myriad challenges in getting data from many different systems, getting complete and accurate data, and finding ways of making the data make sense for very fast decision making. Predominantly, there wasn't enough bandwidth amongst public health workers to make the phone calls necessary to collect case information. Additionally, even if calls were made, it wasn't always easy to connect with patients or providers over the phone. As a result, a lot of data were missing. Had the clinical data been sent from health records it could have greatly reduced both the blind spots in our datasets and the scope of work put on disease investigators.
There's an opportunity now to take some of these lessons learned from the pandemic to modernize Michigan's public health infrastructure. Like with ADT messages and MiCelerity, a logical place to start is with existing data sources that can be used in new ways to inform public health.
One idea, and there are many, is Hepatitis C infections. Hepatitis C is a curable chronic condition that public health tracks. Medications that get prescribed to treat it are only prescribed for Hepatitis C. In other words, if someone gets the Hepatitis C medication, it indicates that they have Hepatitis C regardless of whether MDHHS has received a lab result or not. Filtering prescription data for this one piece of information is an example of how an existent data source (prescription/treatment information) could be used to generate actionable, valuable public health information.
The more data that can be automatically turned into information, the more time public health workers will have to focus on the parts of the work that will always require a human person. Further, the better public health can make big data useful, the more it can be reciprocal and able to give health care providers actionable information from public health systems that can improve patient care. "Ultimately, we all want to move to a modernized public health IT world," says Coyle. "It's an iterative process and we're not going to get there overnight. But, we can build solutions that get us closer to that reality."