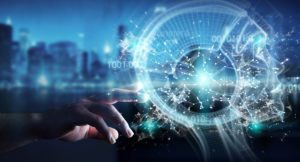 The Computable Knowledge use case allows computable biomedical knowledge algorithms and evidence-based message tailoring algorithms to be applied to health information already flowing through the Michigan Health Information Network Shared Services (MiHIN), enabling more informative and timely reports and messages to be delivered to care team members.
In recent years, healthcare delivery has become increasingly complex. The widespread introduction of electronic health record (EHR) systems and the growth in high-quality biomedical knowledge has created new opportunities and new challenges.
Experts in the fields of "Machine Learning" and "Artificial Intelligence" now routinely develop computer algorithms based on analyses of population health data. Trusted computer algorithms are already being used to drive best practices, often by segmenting individual patients into various risk groups. These algorithms provide decision support in the form of statistical predictions and risk scores which can help healthcare to improve care, ultimately resulting in better health outcomes.
The Computable Knowledge use case deploys computer algorithms to provide more timely and actionable messages and reports. Integrating these computer algorithms into the existing statewide health information network leverages current capabilities to make clinical decision support widely available and consistent across sites of care, allowing greater coordination among care teams.
The following document(s) are available for this scenario: