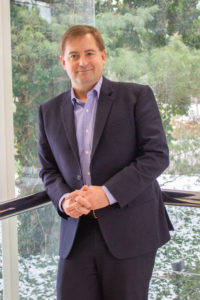 Executive Director, Michigan Health Information Network Shared Services
Dr. Tim Pletcher is the Executive Director of the Michigan Health Information Network Shared Services (MiHIN), a public and private nonprofit collaboration dedicated to improving the healthcare experience, improving quality and decreasing cost for Michigan's people by making valuable data available at the point of care through statewide health information sharing. Dr. Pletcher is also an Adjunct Research Investigator of Learning Health Sciences at the University of Michigan Medical School.
Previously he was the founding director for the Institute for Health and Business Insight at Central Michigan University (CMU) that provided high-end data science services to Fortune 500 companies and large organizations to extract insight and value from their data using business intelligence and predictive modeling.  Some clients included Dow Chemical, General Motors, Harley Davidson, Henry Ford Health System, Partners Health, Eli Lilly, Procter & Gamble, and Steelcase. Prior to joining CMU Tim was the Chief Technology Officer at a start-up corporation funded by Oracle and PSI Net that specialized in electronic commerce and customized supply chain automation.
Tim started his career in the University of Michigan's College of Engineering where he built advanced data networks, and was later recruited to the Medical Center to develop the Health Sciences Network. Subsequently at the Consortium for International Earth Science Information Network (CIESIN) Tim worked in Washington D.C. on the NASA EOS-DIS project supporting a Federal Inter-Agency Working Group on Data Management for Global Change Networking Activity and the Centers for Disease Control, United Nations, World Bank, and World Health Organization.
After returning to the University of Michigan from Washington D.C., Tim led an advanced technology group and served as the Director for Research and Business Information Systems at the University of Michigan Health System (UMHS) where he managed a team of 48 full-time staff, the production financial systems, and medical billing, and executed a number of multimillion dollar reengineering projects such as mainframe upgrades, conversion to a single patient statement, workflow automation, electronic data interchange, charge capture, and enterprise application integration (HL7). His advanced technology group focused on linking research to clinical practice for efforts like tele-health and simulation. In 2000, Tim and the Medical Readiness Trainer Project team members at UMHS received a Smithsonian-Computer World Medal for utilizing virtual reality and computer based modeling and human patient simulation to reduce medical errors.
Tim frequently presents both regionally and nationally on topics such as Health Informatics, Advanced Analytics, Data Science, and the requirements for creating a Learning Health System. He received a Doctorate of Health Administration and a Master's Degree in Health Administration from Central Michigan University, and received his Bachelors of Science from the University of Michigan.