Staying ahead of the curve…
The "requirements" trend is clear… healthcare organizations and app developers will be required to obtain a technical certification with third-party review of privacy and security to demonstrate their continued focus on interoperability – a foundational component of the Office of the National Coordinator's (ONC) Cures Act Final Rule and related CMS Interoperability and Patient Access Final Rule. MiHIN, along with EHNAC, are here to help you meet changing requirements stay ahead and the curve.
The Trusted Dynamic Registration & Authentication Accreditation Program (TDRAAP) is designed to help healthcare organizations and application developers demonstrate their ability to use trusted digital certificates for endpoint identity, registration, authentication and attribute discovery for electronic healthcare transactions in real-time.
TDRAAP will serve as a "good housekeeping seal" of proven readiness and trust to enter onto the interoperability digital exchange highway.
With two options available, TDRAAP-Basic and TDRAAP-Comprehensive, you can select the right program for your needs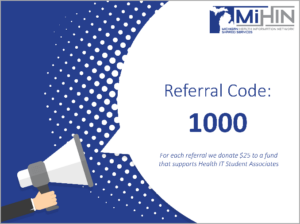 [mkdf_button size="huge" type="" hover_type="" target="_blank" icon_pack="" font_weight="" text="Sign Up (Use Referral Code 1000)" link="https://urldefense.proofpoint.com/v2/url?u=https-3A__www.ehnac.org_pre-2Dapplication-2Dform_&d=DwMGaQ&c=euGZstcaTDllvimEN8b7jXrwqOf-v5A_CdpgnVfiiMM&r=98mdCOLNmS6W-0mbDLw9Ueqq3455jsA7Vp_6RoAW5sI&m=_lPt6OGeB49yOF7OMMc-I3K-6WCfUjezLxsGtfoFJVk&s=3God1_JKbZLJ0-gi41DlEY9AWxlfuv4SR55mAdsu3Fc&e="]
Enter code in "If referral or other, please explain: field" in form.