Early Bird Registration Now Open for Annual Health Information Technology Conference
Join MiHIN for a Connectathon, Legal Summit and Connecting Michigan for Health Conference
LANSING, Mich., Feb. 18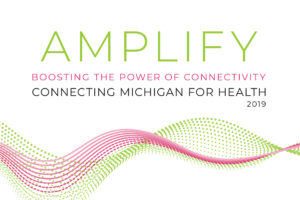 , 2019 – For more than a decade, Michigan Health Information Network Shared Services (MiHIN) has brought together leaders from across the health information technology community to share in successes and emerging issues.
MiHIN will host Connecting Michigan for Health Conference kicking off with a Connectathon on May 30 and May 31, 2019, at the MotorCity Casino Hotel in Detroit, Michigan and continuing on June 3, 4 and 5 for the Legal Summit and our flagship conference, Connecting Michigan for Health at the Lansing Center in Lansing, Michigan.
Early bird registration is now open for individuals looking to secure the best rate for the series of events at https://connectingmichigan.net/.
WHAT: Connectathon – Healthcare vs. Finance Throwdown
WHERE: MotorCity Casino Hotel, Detroit, Michigan
WHEN: May 30 and May 31, 2019
The healthcare and financial services industries are undergoing dramatic digital transformations impacting nearly every aspect of operations. This year, we're bringing together the healthcare and finance industries for the first of its kind Connectathon.
WHAT: Legal Summit
WHERE: Lansing Center, Lansing, Michigan
WHEN: June 3, 2019
Last year, we added a one-day Legal Summit to Connecting Michigan for Health and it was a great success. The 2019 Legal Summit will include pressing topics around national interoperability, the sharing of behavioral health information, and recent legislation pertaining to the opioid crisis.
WHAT: Connecting Michigan for Health
WHERE: Lansing Center, Lansing, Michigan
WHEN: June 4 and June 5, 2019
The eleventh annual Connecting Michigan for Health conference will bring speakers together to discuss an array of topics and will leave attendees inspired to continue to amplify their efforts.
We look forward to celebrating another year of stakeholders working together and amplifying our collective efforts in Michigan, and beyond!
Additional information on the event is available on the conference website at www.connectingmichigan.net.
For additional information on the conference, email at connectingmichigan@mihin.org.
About Michigan Health Information Network Shared Services
The Michigan Health Information Network Shared Services (MiHIN) is Michigan's state-designated entity to improve healthcare quality, efficiency, and patient safety by sharing electronic health information statewide, helping reduce costs for patients, providers, and payers. MiHIN is a nonprofit, public-private collaboration that includes stakeholders from the State of Michigan, Health Information Exchanges serving Michigan, health systems and providers, health plans/payers, pharmacies, and the Governor's Health Information Technology Commission. For more information, visit https://mihin.org.
###
For additional information, contact:
Alyssa Jones
Public Relations Manager
Michigan Health Information Network Shared Services
269-832-8353
alyssa.jones@mihin.org