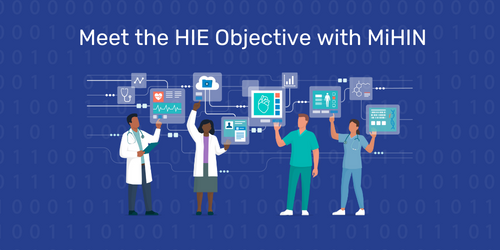 On August 1, CMS issued the final 2023 Inpatient Prospective Payment Systems (IPPS) for Acute Care Hospitals and the Long-Term Care Hospital (LTCH) Prospective Payment System (PPS) Rule, which MiHIN had provided extensive comments for earlier this summer.
 For those who are unaware of what the IPPS and LTCH PPS rules are, they are the way Inpatient and Long Term Care hospitals set prospective rates for hospital stays dependent on services provided. These rules are pertinent for our stakeholders because compliance with them dictates if they will be able to receive federal funding, which most organizations are heavily reliant on.
This year changes to the rule included the incorporation of measures on maternal health and adverse events during childbirth, dedicated measures on how an entity furthers Health Equity, Social Determinants of Health and Health Related Social Needs, a mandatory measure on queries to the Prescription Drug Monitoring Program (PDMP), and requests for information on incentives for participation in the Trusted Exchange Framework and Common Agreement (TEFCA).
While we would be happy to provide our comment letter and summary on the content of the rule itself, there is one area where we can directly help our stakeholders: The HIE Objective measure, worth 30 points of a hospitals score. There are three ways an entity care meet this score. The first option is to report on Sending and Receiving Health Information through Support of Electronic Referral Loops. The second option is to report on the HIE Bi-Directional Exchange measure. Most of our stakeholders used this measure last year, as it changed to a simple yes/ no response. MiHIN is able to supplement that response with an attestation letter stating they are connected to our HIE Network and engaged in bi-directional exchange. The third option is to report on the Enabling Exchange Under TEFCA measure, which again is a simple yes or no, but states the entity is a signatory under the TEFCA framework. This last option, although new, may be complicated without QHINs established to connect to but they do have requirements for what this would mean if stakeholders are interested in more information.
We urge our MiHIN stakeholders to reach out to us at help@mihin.org (Attn: Shreya Patel) if they require an attestation letter on the second option for the HIE Objective and if they have any additional questions on changes to the IPPS and LTCH PPS.