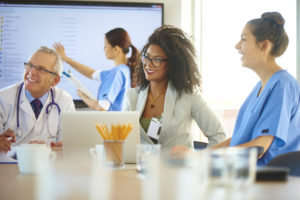 MIDIGATE gives providers and managing organizations a single, consistent, interoperable solution for coordinating patient care
How many systems do you use to coordinate care for your patients?
Michigan Health Information Network Shared Services has ONE solution to seamlessly manage multiple reporting systems, connected directly to Michigan's statewide health information network. Use MIDIGATE to streamline workflows, improve efficiency in care coordination, and improve data quality.
MIDIGATE enables effective coordination of care that is affordable, configurable and scalable to your organization.
With MIDIGATE, you can
View and compare transitions of care messages

Admission, Discharge Transfer notifications

Discharge Medication Reconciliation messages

Access diagnoses and treatment plans

Update your patient roster in the statewide network

Find contact information for your patients' care team

Easily access quality measure information

Send quality measure information to State Medicaid for Meaningful Use
NOTE: MIDIGATE requires active use of the Active Care Relationship Service and Health Directory use cases.
Why MIDIGATE?
MIDIGATE will enable you to strengthen your connection with your patients, stay updated on their health events (without having to track down information), and make your office work easier!
MIDIGATE combines several services into one centralized tool – an all-in-one solution. MIDIGATE combines the:
MIDIGATE gives you a consistent view of your patient's electronic health information, regardless of which EMR system you're using.
For additional information on MIDIGATE, contact help@mihin.org or click here to submit a website request.