Access patient and population specific transition of care information
Find contact information for members of a patient's care team
View patients' allergies, medications, conditions, diagnosis, discharge summaries, notes
How many systems do you use to coordinate care for your patients?
Less is more.
MiHIN offers a single solution to seamlessly manage patient information from the multitude of reporting systems connected to the network. The Medical Information Gateway- or- MIGateway® supports streamlined workflows, optimized care coordination, and improved quality reporting.
Reliable access to accurate, structured health information straight from providers allows for smoother transitions of care, easier analysis, streamlined population management and stronger support for quality incentives.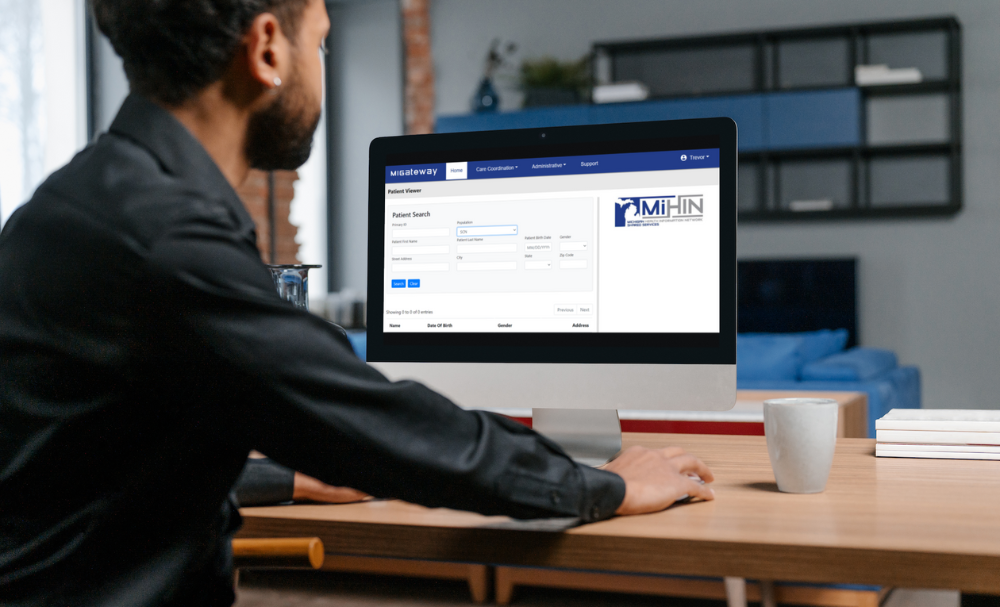 of your Active Care Relationships
Days of Critical Transition of Care Information
Find the information you need, when you need it, to make your best decisions about your patients' care.
Establish your Active Care Relationships with one click
The Active Care Relationship Service (ACRS®) attributes  patients' electronic health information with the providers delivering their care and the payers covering the cost. By making these connections in real time, ACRS helps strengthen and extend these important relationships, enhancing the continuity and quality of care delivery.
Access Patient Care Summaries
Obtain Continuity of Care Documents (CCDs) a standardized summary of the relevant clinical data for a specific patient – from different sources in the network to understand more about a patient's  journey.
Find contact information for every provider who is currently working with your patient
Find information on health professionals such as name, address, specialty, contact information, organization affiliations, and electronic addresses for exchanging health information- supported by Health Directory. 
Access an organized view of your patients' data
Identify any/all patients who have been admitted, transferred, or discharged from a participating facility
ADT notifications are sent throughout the network when a patient is admitted to a care setting, transferred to another care setting, or discharged from a care setting. This information exchange allows providers to steer patients toward clinical and non-clinical interventions, reducing over-utilization by preventing avoidable emergency department visits and hospital readmissions, and improve post-discharge transitions.